What is WinRar?
WinRAR is a 32-bit Windows version of the RAR archiver, the powerful archiver and archive manager.
RAR files can usually compress content 8 to 30 percent better than ZIP files. WinRAR's main features are very strong general and multimedia compression, processing of non-RAR archives, long filename support, programmable self-extracting archives (SFX), damaged archive repair, authenticity verification, embedded file comments, and encryption.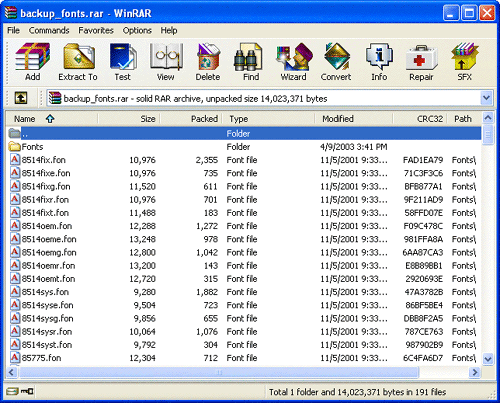 WinRAR also includes an intuitive wizard for novice users, support for parity volumes and missing volume replacement, support of "Convert" and "Find" commands and industry standard encryption using 128-bit keys. Designed to work on Windows 95/98/NT/2000/ME/XP WinRAR provides complete support for RAR and ZIP archives and is able to unpack and convert CAB, ARJ, LZH, TAR, GZ, ACE, UUE, BZ2, JAR, ISO archives.
WinRAR is available in over 35 languages. The command line version RAR is available for Linux, DOS, OS/2, FreeBSD and MAC OS X. WinRAR 3.20 for Windows costs $29.00(US) for a single-user license.

Site licenses (unlimited number of users in one geographical location e.g. company, small town, university campus) are available. No need to purchase add-ons to create self-extracting files, it's all included. Unlike the competition WinRAR has already integrated the ability to create and change SFX archives (.exe files) using default and external SFX modules.
So when you purchase WinRAR license you are buying a license for the complete technology. One price, one payment, once.

All future UPDATES for FREE. It has always been our policy not to charge our customers for improvements we make to RAR. So our registered users will receive all future UPGRADES for FREE. For more information & to download the evaluation copy, visit:
Download

or may buy it here